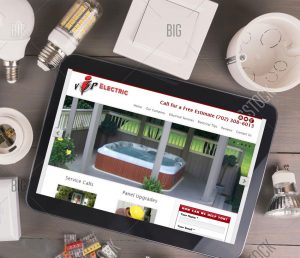 Being a contractor means having to carve out your own niche. You have to develop a customer base, establish leads, and remain relevant by offering sustainable services. Sometimes the various factors involved in becoming a successful contractor can be overwhelming.
One of the most important parts of this field is having an online presence, which is mostly interpreted as a website. A website puts in front of a diverse and broad audience that require your services. The only problem is that there are several electrical contractors like yourself who run a website. This competition can make it difficult to experience a steady boost in customer conversion and business success. Like any other venture, competition is inevitable, what matters is how you can get ahead of the competition to make profits. It starts with putting the right things on your contractor website.
Contractor websites can be the last thing people want to see, except they have a problem. When these potential clients or visitors find your website, you need them to stay and be converted to leads. The only way to achieve this is to optimize your contractor website. Here are some tips on what to include in the website for steady results.
Valuable content
When you are an electrical contractor you may be tempted to have limited content on your website. Contrary to what most contractors believe, visitors do not want to see just a list of the services you can offer. They require conviction and this can only be provided with valuable content. Start by optimizing your website with phrases, terms, or keywords that visitors search for. Of course, these should be related to your niche. Then, beef up the site with content such as blog posts, details on each service, contact information, reviews, and so on. Promote your services with as little pressure as possible and concentrate more on establishing trust and confidence with visitors.
Usability
Several contractor websites lack usability. It is difficult to navigate from one section to the other or find the service needed. Make the website responsive and easy to navigate. Optimize images, website speed, and so on.
External links
Having an external or inbound link from a credible website is a testimony of your brand authority and efficiency. It convinces potential customers that you can be trusted and generates leads. Gain external links from good websites only.
Portfolio
Portfolios are vital for electrical contractors. They present proof of your experience and capability. Research has shown that images or portfolios are usually the most viewed parts of contractor websites. It is necessary for visitors to establish trust and be converted.

Ensure that your portfolios are up to date and show completed projects from start to finish.

History or Comprehensive About Us
Visitors would be interested in reading a short history or comprehensive About us on the website. It helps them know something about the company's background and identify better with the services. You can include some details on the staff or statistics about awards and contributions to your immediate community.