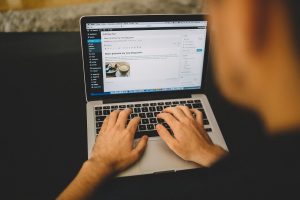 As a construction contractor, all your work is done offline, so why do you need a website? A website is a great marketing tool for anyone in any field. It can be used as a hub for your marketing tactics, online and off. Even if you are running a very successful print advertisement campaign, by not having a construction website, you are missing out on potential customers.
Homeowners and business owners have always looked up and researched their prospective contractors before hiring them. Recently, research has shown that before a customer hires a construction contractor for their home or business they look online for references. What would happen if they looked online and found nothing about your company? They would move right along to the next construction contractor.
Having a website is just the first step. The next and all remaining steps involve what you do with that website. Your website must look professional and be easy to navigate. If you have a poorly designed website, your potential customers might pass on by to the next contractor. When you have a great website that is easy to navigate and works well on all devices, you'll find that the work starts pouring in.
When designing your construction website, you must keep these things in mind:
1. Responsiveness – A well-designed website will work on all devices, from desktop computers to mobile phones. When a designer talks about a responsive design, they mean that the website you are viewing on your computer will shift and adjust to fit nicely on a tablet or mobile device.
2. Conversion – You want to use your website as a conversion tool to gain customers. With the right words and properly placed buttons, a website will be a great tool for converting visitors into customers.
3. Showcase – Your website should showcase the work you have completed or are currently working on. When you include a lot of photos of your actual work, you are showing your potential customers that you can be trusted.
4. Fast and Secure – A website that loads slow on any device is one that will not work. Your construction website must load fast so as to not lose your potential customers' interest. It must also be free from any malware or harm.
The easiest way to find the best construction website design company is to go with someone who focuses on with contractors. Big web design companies might not be able to handle the needs of a contractor. When you go with a design firm that deals only with contractors, you know you are getting the best help out there.
Happy Contractor has been designing contractor websites for over 15 years. We have gone through all the Google algorithm changes and have kept our clients on top. If you have any questions about getting set up with a contractor website, please don't hesitate to contact us.