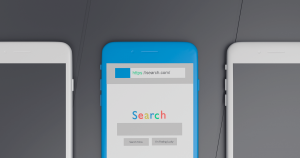 Everyone wants to see their business listed on top of Google.
If you have a website or Google My Business (GMB) page and search for your business name you're likely to see yourself at the top of the search results.
But what if you do a search for something your company specializes in?
Say you're an electrical contracting company in Los Angeles and you search for "electrician Los Angeles". Your website or listing should be number one, right?
This probably isn't the case, but don't worry – that's why we're here. We're going to help you out with a few tips on how to get seen instead of your competitors.
When you look at the search results you may think it all goes together, but unfortunately that's not the case. Google's search results have changed greatly over the years but have pretty much consisted of the same three things – ads, maps, and organic results, each one is a separate entity.
The first thing you see when doing a search will be the promoted listings.
This is where you will find the Pay Per Click (PPC) ads provided by AdWords. If you are just starting out and need quick work you may want to get started here. You will have to shell out a little money but might get some big jobs in return if you're using the right keywords. Since this is an article on how to rank organically we won't go too in depth with PPC but please contact us if you have any questions or would like to get set up with an AdWords Campaign.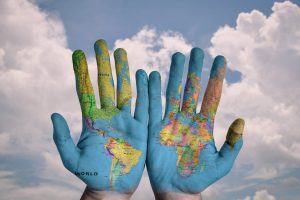 Second thing on the screen is the maps.
Here you will find a listing of businesses based on your search words that are closest to you or closest to the city you searched for. Google uses your location or your city keyword to determine what displays here.
These listings are business set up in Google My Business so you want to make sure your GMB listing is complete and accurate.
Lastly is the organic search results.
To get your business showing up close to the top here requires a lot of on and off site work. On-site SEO, as you could probably tell, is the Search Engine Optimization that happens on your website whereas off-site SEO is the work done off of your website.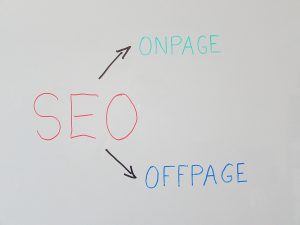 On-site SEO is comprised of things such as keywords, blog posts, and code enhancements. By building your on-site SEO it not only helps search engines rank your page higher but it also helps users understand what your web pages are about. If they can figure out if the page is relevant to their search query they will stay on the page longer – which will also help your chance of ranking higher. What on-site SEO really boils down to is helping search engines know what users will see on a page and if it's valuable. The goal of a search engine is to find relevant, high quality information that matches a search query.
Off-site SEO may be a little more difficult to obtain as you don't have much control over it. The goal here is to improve the user and the search engine's perception of your website. Let's say your website is a car repair shop. You would want to know if the place is trustworthy, relevant to your needs, and is a popular place to go. If there were no leads going to that shop, you would be more reluctant to get your car fixed there. Same thing goes for search engines and your website. Search engines want to see other websites linking to your website. These websites need to be seen as high authority websites meaning they are trustworthy and popular. They also have to be relevant to your website's message. Gaining these links can be difficult and time consuming but well worth it in the end.
This is just a little bit of insight on how to get your website to rank organically. With a little work you could see your website at the top of Google in a couple months – just be sure to keep up with it. On and off site SEO takes a lot of work but the benefits are great. Please do not hesitate to call us if you need guidance!