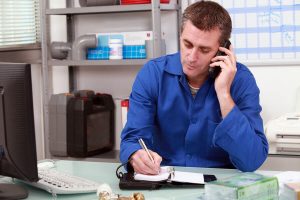 Are you fulfilling your dream of owning your own contracting business? If you are, it is probably something you have worked hard towards. You have invested a great deal of time and energy as well as money to get your contracting business off the ground. You can help ensure your venture is a success with proper marketing for contractors. There are a number of different ways to get your name out there. However, establishing your business on the internet is a must. The team at Happy Contractor can help you get your new business off to a great start.
Websites for contractors may not seem necessary because you aren't actually selling anything online. However, you are technically selling your service and in order to do that, you need to put your best foot forward. Your website is going to the the first impression new clients get. New businesses really need to make a good first impression in order to get those people through the door or calling you for service. A website that is clunky and doesn't look appealing is going to set the tone and you could potentially lose business simply because the site isn't attractive and functional.
Don't risk your business failing because you didn't take the time to hire a professional team to create the proper site. You need to be seen on the internet and ranked high enough in the search algorithm to get that phone call. Contractor websites are tricky business if you are unfamiliar with SEO and other key factors that bump your page to the top of the list. Your investment is far too important to leave to chance. Give yourself every edge and call Happy Contractor and learn more about what they can do to help you establish a presence on the internet.