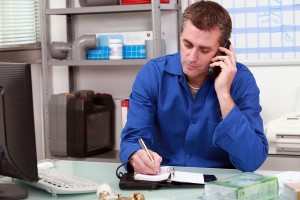 We have all become very adept at using the internet to find what we need. Nearly everything we do is somehow connected to the internet. Shopping, looking for services and finding out about things happening in your hometown are all done via the internet. What many people don't ever think twice about is how the websites get put together or established. It is just there and we love the ones that are easy to use. Is your business online? Is your business taking advantage of the massive audience available online? If you don't have a contractor website, it is time for you to give Happy Contractor a call and discover what you are missing out on.
Contractor websites are an excellent way for your company to get seen by a much wider base of people. Often times, customers are browsing the internet, looking for ideas. If your website is there and ready for them to browse through your work and what you do, you are more likely to pull them in should you just have an ad in the phone book. Creating a visually attractive site that showcases your best work, while making it easy for a customer to reach out is one way to increase your customer base.
Contractors often rely on word of mouth to attract new clients. That is an effective way, but there is a much wider audience out there that may never hear your name. Contractor marketing via your website is an effective tool that gets your name out there. Anybody who gets on the internet and searches for your particular service will stumble on to your page, which is exactly what you want to happen. Getting your page to the top in searches is something you want to leave to the professionals, like those at Happy Contractor. Give us a call today and learn more about how a website can help your business grow.