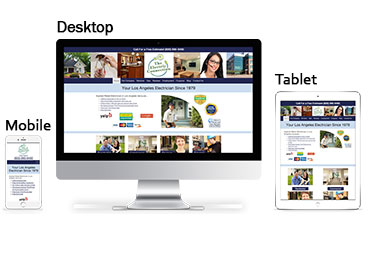 A Custom Website is designed to hit the "hot buttons" of the customers that you want to attract. It provides all of the features of our Basic Websites. This is a large, impressive website completely customized for your company.
Who should get a Custom Website?
Small town contractors who have a Custom Website often rise to the top of Google without needing to undertake an SEO campaign.
This is also a good choice if you're in a larger urban area and are intending to use your website primarily as a "brochure." For example, one of our plumbing clients who does commercial work in the Los Angeles area uses his Custom Website this way. He is hired by general contractors who learn of him by word-of-mouth and then check out his website.
If you want to be able to make text changes to your website on your own, the Custom Website gives you the Self-Editing option with a

WordPress Website

. If you're good at software, you'll also be able to make changes in graphics.
However, if you're in a medium or large urban area and want customers to find you on the Internet, check out Happy Contractor's SEO Websites.
Features of the Custom Website
Domain Name (example: www.HappyContractor.com) – Your existing Domain Name or one that we select to fit your company

WordPress Website

– We utilize WordPress as a CMS for all our website
Basic Services and Tips Pages – List of services that you offer
Basic Company Info – License #, Insurance, Bond, Warranties, Phone, FAX, Address, e-mails
Service Areas Listed – List of communities that you serve
Credit Card & Financing – Credit Card icons, finance company name and terms

Website Analytics

– Tracks number of customer visits over time, how customers found your website, keywords customers typed in, etc
Self-Editing Option – Add/delete/change text yourself if you wish and graphics if you're good at computer software. Allows you to be in control of your own website
30 Days of Free Edits – After your website is completed you'll have thirty days to complete any changes you need done to your website
Custom Website Template – Choose from an existing template, a custom template, or send us a design you like
Custom Service Pages – Includes your specialized services – high value for Google rankings
Customized 'About Us' – Hits the "Hot Buttons" of the customers you want to attract
Additional Custom Pages – Add any additional custom pages you need outside of the basic tips and services pages we have created
Photo Gallery Page – Add one photo gallery to display your work
Coupons/Specials – Coupons attract many customer visits
Affiliations/Awards – Your company's memberships and awards, including icons
Brands Page – HVAC contractors or electricians who install generators often feature particular brands
Desktop, Mobile, and Tablet Repsonsive – Your website will work on any device and will be completely mobile friendly in Google's eyes