Making a Profit – Managing Promotion, Sales and Production in a way that results in your company making a profit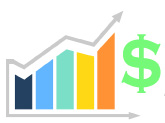 Here's the part of this article where I share what I know about how to tie in Promotion, Sales and Production together into a complete system that allows you, the contractor, to maximize your profit. By the way, I don't claim to be a marketing guru. In fact, I can claim with great confidence that I am not a marketing guru. I'm just an electrical contractor who has worked out a marketing system that allows my company to keep 20 electricians busy in the field each day.
Here's what I do and how I do it:
Promotion
I attract new customers to my contracting company using the Internet. Some advertising is free, some I pay for, but only if my company receives 10X or more in gross sales than what the advertising costs me.
Free Internet Advertising
My company is listed on all the major and local internet directories. I don't pay for any of this free advertising. For example my company has a Yelp Listing with a lot of 5 Star reviews – we get customers calling my company after reading the reviews. The Google, Yahoo and Bing Local business Maps Listings produce some new customers as well, but not as much as Yelp. My company is also featured on another large company's website (can't say which one), which brings in several customers per week.
Paid Internet Advertising
I pay a small fee to have my company listed on the website of a large home inspection company, which brings in some new customers at a cost to me of 5% of the gross sales of these customers. Per my 10% advertising rule this is exactly twice the benefit to my company as what it needs to be in order for me to keep paying for this listing.
My company also advertises on Angie's List, which currently costs my company 8.5% of the gross sales that we receive from the Angie's List customers. I started with Angie's List early on and so now have a lot of reviews, which encourages customers to call my company rather than another company with less reviews. I'm not sure how well a contractor who is new to advertising on Angie's List and who doesn't already have a lot of positive customer reviews would do in regards to my maximum 10% of gross sales rule.
Search Engine Optimization (SEO)
Search Engine Optimization is where you set up your company website to be found by potential customers on the non-advertising or "natural" section of the search engine listings.
This is my company's best form of advertising for two reasons: SEO produces the most number of new customers and the SEO advertising costs are only about 2% of the gross sales.
I should point out that SEO wasn't always this cost effective for my company. I had to go through a learning curve which started with my company first losing money with SEO before SEO became my most effective and profitable form of advertising.
Here's what you need to have in order to succeed with SEO Marketing:
Have a Good Website
There are three main things that make up an effective website:
The first and most obvious thing you need with any successful internet marketing campaign is a website that will convince the potential customer that your company is the right one for them to contact regarding their needs. Your company website must be designed to appeal most strongly to the demographic of customers that you are seeking to attract to your company.
The second thing you must make sure of when designing your website is that you put the proper content in the website. For my electrical contracting company in Los Angeles, my website has a lot of content about electricians in Los Angeles, electrical panel upgrades, house rewiring, electrical service calls, etc. When people in Los Angeles are searching on Google for an electrician, the number one thing they search for is "electrician Los Angeles." If Google thinks my company's website is the most relevant website it will list my website higher in the rankings than the less relevant websites.
The third thing, which is often overlooked by both contractors and the website designers they hire, is proper website coding. Your website must be correctly set up with the proper computer coding so that the search engines can "see" what is on your website. It won't do my company any good if my website has great content but the search engine spiders do "see" the content.
Convince the Search Engines that Your Website is the Most Relevant
This is the most challenging part of SEO. In my opinion the majority of so-called SEO experts don't actually know enough about this subject to be able get and keep their client's websites onto the first page of the Google, Yahoo, and Bing search engines. I have read countless SEO strategies involving the use of blog posts, paid links, press releases, automatic content writing, social media, video marketing, etc., etc. etc.
The reality is that each website will need its own specific SEO strategy in order to rank well in the search engines. But – good news for contractors – my experience is that because of the relatively ineffective SEO done for most contractor websites, proper SEO for a contractor website can be quite effective with less effort that other more competitive business category websites.
Final Thoughts
The more time and cost effective a contractor's promotion is, the more promotion can be done. The more a contractor promotes, the more customers they will have. The more customers a contractor has the greater the contractor's potential profit. In my opinion, internet marketing, and especially SEO marketing, provide the easiest method for contractors to succeed with their marketing.
Wishing you every success,
Kim Hopkins