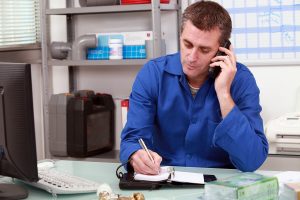 It is fun to learn new things. It makes us feel a little smarter and helps to expand our horizons. Even though we may like to learn new hobbies, there are some skills that are far too technical to try and master without a huge learning curve and a great deal of training and experience. Computers are a part of our daily lives and using the internet is second nature for most. However, putting together those websites we all visit throughout the day isn't exactly a hobby. Contractor websites require attention to detail and a specific knowledge about how to put one together. The team at Happy Contractor has a team of individuals who have the training, knowledge and experience you want when it comes to building a website for your business.
There are many different options for putting together websites for contractors, but trying to do it yourself when you don't know how to do it is very risky. You will probably end up tearing your hair out trying to use plug-ins, set up pages and so forth. These are all things you are going to have to learn if you want to build your own site. If you would rather talk with customers, hang out with your family or enjoy the fruits of your labor, leave the website building to the experts.
Along with putting together a website, you will need to know how to get it actually seen by potential customers. It isn't as easy as you would think. There is a lot of jargon, like keywords and SEO that may not mean anything to you, but they mean a lot to the search engines. Contractor SEO services are part of the package when you hire someone to build a website for your contracting business. Don't try to take on more than you have to. Give Happy Contractor a call today and schedule a consultation for your very own website.